Tuesday is the new Monday.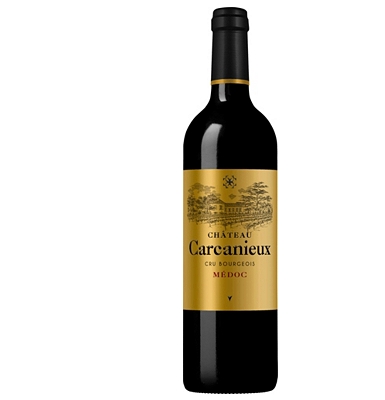 Château Carcanieux 2010 from Waitrose Cellar. List £16.49 (but it's a 2010) then reduced by 25% in 'here comes another sale' which makes the price OK for a Tuesday. Cru Bourgeois blend of 60% Cabernet Sauvignon, 25% Merlot and 15% Cabernet Franc.
In the glass… inoffensive Bordeaux, quite drinkable and an excellent midweeker in a plethora of VERY average supermarket Bordeaux's. I'm trying to find some descriptors but it's so very unremarkable. Considering it's age this is very well made and shows no signs of being close to the edge.
For £12 ish plus delivery an absolute bargain. We forget sometimes that wine is simply for drinking and not for talking about.
With pad-kra-pao, I am a Grauniad reader.
After a lovely BH weekend spent mostly in bed with flu, an old faithful to aid recovery
With lamb and a Melanzane thing the other half made.
I'm reliably informed it's still wonderful, although my taste buds haven't recovered fully for me to completely appreciate it.
A surprising disappointment and a pleasant surprise so far this week.
With tuna steaks, rice and green salad yesterday:
Chinon 'Les Chiens Chiens' Domaine de la Noblaie 2016
We love our Cab Franc, especially from Chinon and even more so with some age– so I had high hopes, as I really like the producer. Sadly, this failed to excite, lacking exuberance and energy. We both agreed that the nose was much more enticing and multifaceted than the palate.
No sign of age in the glass, the nose was a rather complex affair with notes of graphite, freshly turned earth, coal tar soap (according to the husband!) and lovely floral notes of dried petals. The fruit unfolded slowly and was mostly cherries and hedgerow berries, coupled with a twist of spice and fragrant cedar.
On the palate there was heft to it, but it lacked a counterpoint of freshness and 'bounce'. The fruit tasted quite sour and tart and felt unsupported by other elements. The acidity was bright, if not exactly lively, and the tannins felt a little harsh. The spiciness coupled with black tea notes and floral background lifted it somewhat, but even with plenty of air over the course of the evening – it just failed to take off.
Shame, as we absolutely loved the 2016 'Pierre de Tuf' bottling from the same producer – but I guess disappointments are part of the vinous game!
This evening, another Cab Franc, this time blended with Malbec:
Artesano de Argento Fairtrade Organic Malbec Cabernet Franc, Mendoza 2021
For the £10.50 paid in Sainsbury's this is fab! Rich and smooth, but with a savoury/herbaceous edge which gives it interest. On both nose and palate there's ripe plums, elderberries, cedar, violets and mint with velvety tannins and balanced acidity.
Harmonious and very enjoyable, and a definite re-purchase for weekday quaffing!
Oooh, I've got a single bottle of the 2019 in the rack… I wonder how it'll fare in comparison…
I've had one of these open over this evening - a 2015 Château de la Mulonniere Savennieres Effet Papillon. From the current Waitrose 25%er.
First impressions are really good to my mind - still very young with lots of rich acid kick, but some nice fruit lurking in there too, nuts & honey, cold spring blossom. Nice density & texture too. A characterful & delicious wine most certainly.
I'm going to follow this bottle over the next 3-4 nights and am looking forwards. I don't know enough to compare this to others of its specific Savennieres brethren, but for taste excitement and vinous enjoyment, this is up there with many of the Jacky Blot Chenins I love.
A veritable bargain to my tastes :~}
Excellent notes, looking forward to opening mine (arrived yesterday) 'up there with Jacky Blot Chenin' is high praise indeed.
Strange. I bought the last two bottles before it went o.o.s. whilst the 25% offer was running & would have bought more if not sold out. It is now back in stock and at full price £19.49 + delivery.
Which is still a good price for 8 year old Sevennieres. But is it still the 2015 ? I do wish WTR felt able to add the vintage date to the website.
I noticed it was back in stock last night; by the small hours I was enjoying it so much that I had decided I really should get me another case - but I hadn't realised the 25%er finished at midnight! Doh.
Still a bargain at the full price IMO but I'm going to take my chances and wait for the next 25%er. They seem to come around pretty frequently these days.
I hope I won't come to regret my oversight as this is the most enjoyable & engaging Waitrose wine in my book & for my tastes etc since they stopped that Walter Massa Derthona Timorasso a year or two back and the 2009 Boekenhoutskloof Semillon some years previous to that.
I purchased a bottle of Purple Angel in 2019 from Amazon for £39.99 expensive but looks remarkably cheap compared to recent prices.
I opened it on Friday for a couple of glasses very smooth tasting, then left it until Monday to finish it off. It was delicious.
Majestic Wine has it on offer but way too much for me now

For various reasons August has not been good for my self-imposed "minimum 2 dry days per week" rule and it's now time for a bit of restraint. Catching up on the Community posts is not helping at all!
Been too busy the last couple of weeks to do a sit-down-taste-and-post. Anyway here we are; Fess Parker Pinot Noir 2021. Ripe, red and blue fruits, with a little umami going on. Well balanced, delicious juicy acidity, a bit savoury, though just a touch hot. Well made, quite smashable … which it ought not to be given the ABV and price tag. Not yet convinced by US wines; there's something missing that you get with some of the better French/Spanish/Italian/etc wines; maybe it's terroir, individuality, personality … not sure.
Lyme Bay Pinot Noir 2020. This is properly in its drinking window now. The wood and fruit have married.
Mid crimson with a slightly brown rim. Cherries, redcurrants, sous bouis, touch of smokey bacon and farmyard. Restrained and elegant, juicy palate. Medium + acidity, low acidity. England can clearly make cool climate Pinot now.
PS: bloody Pinot Noir and it's haunting perfume, why can't it be under a tenner?!
After a heavy early morning workout I felt deserving of a big dinner and a bottle to go with it tonight. Unusually for me, not that I'm averse, the wine is (soon to be was).
A Valle de Casablanca Sauvignon Blanc 2021, Ignacio Recabarren.
Pea shoots, blackcurrant leaves and a mineral undertow on the fresh nose. Kind of similar on tasting, lean and green grassy flavours with good depth of gooseberry fruit and a leesy mineral undercurrent to add further freshness. An easy to drink, food friendly wine that's a million miles away in style, and all the better for it, from many New World examples these days. The 11.5 % ABV also gets a thumbs up here.
It was an excellent match to the assertive flavours in my simple, griddled herring and crushed warm potato salad dressed with EVOO, griddled lemon, capers, garlic, chilli, basil, etc, meal too.
As an aside, seeing fresh herring, for the first time in ages, on the fish counter in Waitrose earlier today made it a no-brainer to cook tonight ( the 2kg brill looked tempting, mind ! ). Just as good, the roe inside, when gutted, made for a lovely lunch on toast too !
Cothilde Pain (Clo) Ma Declaration 2020
Pleasant Chinon/Cabernet Franc wine that was locally recommended. I wouldn't seek it out again but nice enough. Bright red fruits. Started last night and will be finished tomorrow.
—-
A lot of very young Bordeaux in the French supermarkets. Lots of 2020/2021 etc. Cant see most of it drinking now. I've picked up some 2019 Angelus No3 to try (mine was 30 eur) but will sit on it a while. Loved it's big brother.
Found this Chateau Gloria Saint-Julien 2016 which over a few nights should hopefully be starting to drink. 42 eur in the super market.
After the meeker Chinon, the nose positively booms from the glass. Sweet dark fruits, pencil and vanilla. A lot of Bordeaux uses the same set of descriptors
Lovely fruit and structure on the palate. Accessing on the early side but still very lovely indeed
Cheers all!
2
Well @wine.arbitrageur I am sure this was a great buy (assuming a fair price).
" The 2016 Gloria is one of the undisputed stars of this vintage. Rich, deep and explosive, the 2016 possesses tremendous intensity in all of its dimensions. Sweet red cherry, tobacco, menthol, liquorice and dried rose petal all add complexity. In 2016 Gloria is a real head-turner. It should be a fabulous value as well. There is not much else to say.
Antonio Galloni, Vinous (January 2019) "
Edit - Best price in the UK seems to be about £46 per bottle DPD.
Lol, I went through those wines at home (boooring!) and it's funny the notes are so similar. Angelus head and shoulders above the rest. Some terrible. I thought the Haut Brion second wine smelled of new canvas trainers. Not great. I can't afford Angelus but if someone owes me a massive favour that is top of the list.
Thanks for the review @Claret1961 Plenty of the Gloria and the Angelus No 3 at an E.Leclerc supermarket. It's good enough that I'm thinking to buy a top up round.
These guys have it at £40 per bottle to the UK but have to go for 12. 42 eur/£36 not that far off
The Pinot they make is very drinkable and offers a pleasant experience, currently drinking the 2019. Thanks to @Toby.Morrhall